Brave and Opera are popular private, secure, and fast browsers. Both offer options to stop tracking scripts and ads.
However, a few features make them different. So, which option is more suitable? This Brave vs. Opera comparison will help you decide.
Interface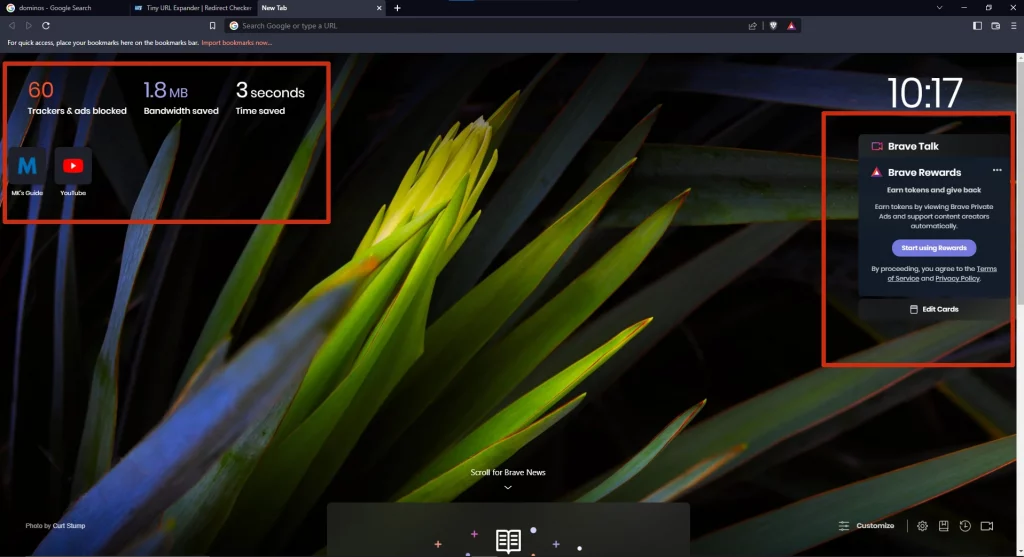 Both are powered by the same Chromium project that powers Google Chrome. Both have a very intuitive interface, but Brave looks sleek and modern.
Brave, along with background, offers statistical information. The top section shows the blocked trackers, saved bandwidth, and saved time.
As you visit websites, they become visible on the homepage. You can edit and remove those sites.
Moreover, if the Brave Wallet and Talk are supported in your region, you will see them on the right. You can also reload the new tab page to change the current background image.
On the other hand, Opera's homepage has a search box, favorite sites, suggested sites, and new cards. There is a weather widget in the upper left corner.
The left sidebar has shortcuts for settings, history, bookmarks, social media, and extensions.
Winner: Tie
Platforms
Both are for Windows, macOS, Linux, Android, and iOS, but Opera is also available for Chromebooks.
Winner: Opera
Syncing options
Both take a different approach to sync. Opera lets you create a free account and sync between devices.
Brave does not support accounts, so you must scan the barcode displayed in the sync settings or paste the code to sync two devices.
Both support syncing history, passwords, bookmarks, tabs, etc. You can import data from other browsers as well.
Winner: Tie
Supported search engines
This is where things become a little bit complicated. Brave has its search engine, but they are not yet ready to make it default. The default engine on both is Google.
We get Google, Bing, DuckDuckGo, and a few other search engines, along with an option to add custom search engines in both.
Winner: Tie
Related: Google Chrome vs. Brave
Privacy and security options
The privacy section is one of the most important in comparing Brave vs. Opera. Both offer almost every required privacy and security option.
Password protection
The password manager options are the same. Here is what you'll get:
Enable or disable the password-saving prompt
Auto-sign into saved sites
Manually save login data
You can delete passwords by clearing the history.
Winner: Tie
Security
Both also offer protection against malicious websites, downloads, and extensions. You can enable a secure connection to be warned about sites without HTTPS.
In addition, both let you use secure DNS servers to apply additional security measures to your browsing activity. Brave comes with the following DNS options:
OpenDNS
Cloudflare
Google
Custom DNS provider
CleanBrowsing (adult content filter)
Whereas Opera has the following DNS servers:
Cloudflare for families (filter malware content)
Cloudflare for families (filter malware and adult data)
Google
Custom DNS
Winner: Tie
Permissions
There are over 20 permission options in both. The basic permissions, such as location, camera, microphone, notifications, motion sensors, etc., are the same.
Brave has a few unique features:
Autoplay video permission (play videos automatically)
Ethereum (to access Ethereum provider API)
Solana (to access Solana provider API)
Opera brings the device info permission that can be saved with chat services and supports people in solving issues.
Winner: Tie
Related: Opera vs. Vivaldi
Cookies
Cookies are files that websites store in your browser to provide a personalized experience, including saving the login info. Both browsers let you manage the cookie files.
You can allow or disallow all cookies, block third-party cookies, or delete cookies on the browser close.
A unique option called "Do Not Track" is offered in both that requests websites not to collect your data. However, only the participant websites care about this setting.
Winner: Tie
VPN
The desktop version of Brave does not have a VPN, but the mobile version has a premium VPN option. It costs $6.99 per month or $71.69 per year, with an option to try it for 7 days.
Contrarily, Opera offers a free VPN on most platforms. You can subscribe to VPN Pro for more servers and better speed at $1.99 monthly.
Winner: Opera
Extensions and add-ons
As mentioned, both are Chromium-based, so we can enjoy the Chrome Web Store extensions.
Opera also has its own store to browse and download extensions.
Also, the browser does not support Chrome extensions right away. You must install the "Install Chrome Extensions" add-on to enable the functionality.
Winner: Tie
Customization options
Both bring light and dark modes, but Brave has better customization options overall. You can set a solid color, a gradient color, or wallpaper for the background.
There are 19 solid colors, 11 gradient colors, and thousands of randomly chosen wallpapers. The interface objects can be customized in the following ways:
Turn on and off the tracker, bandwidth, and time-saved statistics
Switch between favorite and frequently visited sites
Add a custom URL to brave news stories
Change the format of the time
Show or hide cards
In contrast, Opera only lets you change the background wallpaper. You can use your wallpaper or download one from Opera's online collection. The following are the interface customization options:
Use bigger or smaller tiles
Enable and disable interface elements, including news, weather, and speed dials
The browser also has a sidebar panel to add instant messaging services along with some options for faster browsing.
Winner: Brave
Extra options
Let's explore some extra options in the Brave vs. Opera competition.
Brave
Brave Rewards
Brave pays you to browse and view ads. You will see ads in the notification area as you use the browser. Those ads generate the Basic Attention Token (BAT) tokens.
You can then add those to your wallet or send them to website owners you browse.
Brave Talk
The Brave Talk feature is about voice and video calling friends without creating an account. Up to four people can join a call.
Wallet
Brave brings a wallet to store your crypto coins.
Opera
My Flow
My Flow lets you connect mobile and desktop devices to transfer messages and documents.
Player
Here you can play media from the following sources:
Apple Music
SoundCloud
Deezer
Spotify
Tidal
YouTube Music
Screenshot
You can take screenshots without downloading an extension.
Which one is for you?
I don't see many differences except a few. Opera has a cost-effective (free) VPN, whereas Brave offers a few more customization features.
Other than that, both have basic options that regular users need. Brave lets you earn BAT coins, which can be a plus if you are a crypto user or want to tip your favorite website.
Brave vs. Opera: Links
Wrap up
Regardless of which you choose, both are excellent choices for efficient browsing.
Anyhow, the Brave vs. Opera battle ends here. Feel free to share your thoughts in the comments. I read every comment, so I might also learn a few things.