Seeing an error message while sending messages on Google Messages can be frustrating.
The app is great, but it is not free from issues, and here are the common ways to fix "Google Messages not sending messages" issues.
Check for Chat Features (RCS)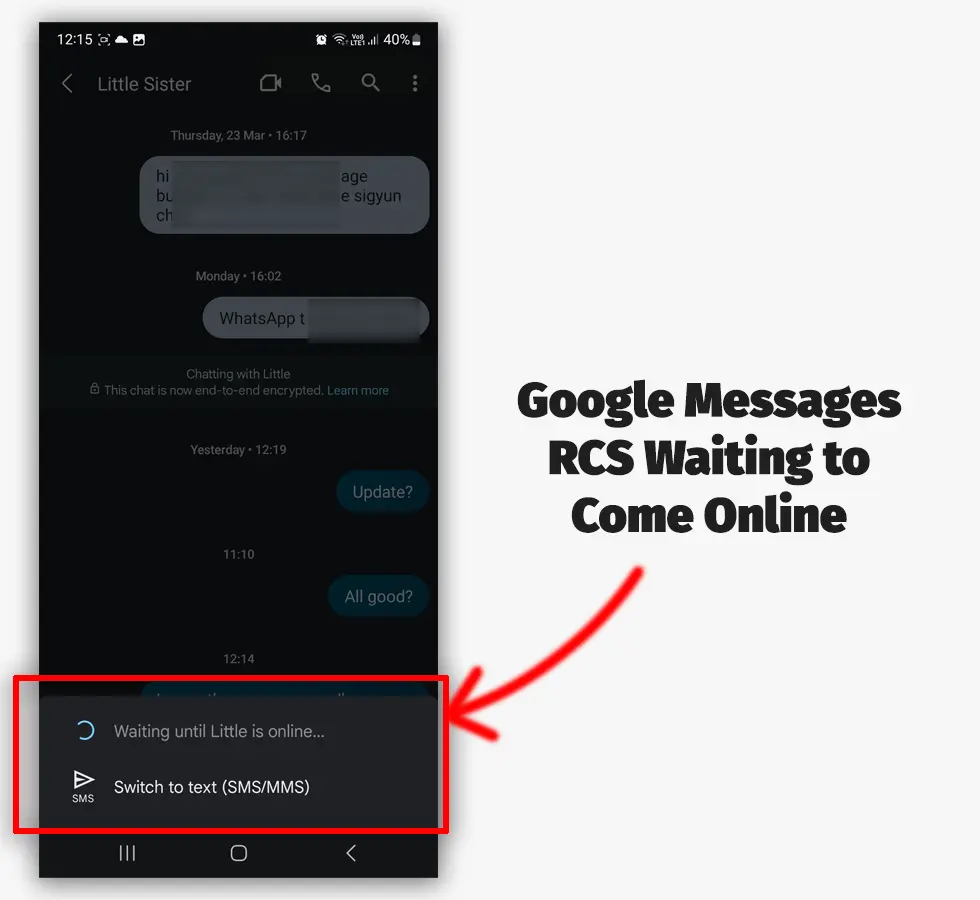 Chat Features or RCS lets you send and receive messages over the internet. If the sender and receiver have Chat Features enabled, Google Messages sends messages online.
However, if the recipient isn't connected to the internet, the message sits in the inbox, waiting for them to return online.
This is the most common reason for Google Messages not sending messages. Check if the message is pending. You can do so by touching on the message.
Google Messages will show Waiting until they are online next to that message. You will also see an option to switch it to SMS. You can also change this in the settings for all recipients.
RCS messages not sending
Other reasons may cause the RCS not sending issues. If the other person had RCS setup previously and changed their phone, they must verify again.
Another problem can be that their verified number is powered off or their app's data and cache have been cleared. Ask them to check their RCS status in the app settings.
Try another app
If you can't send messages to all your contacts, try sending them in another app. If the issue is with Google Messages, the other app should send messages without problems.
Some popular apps I have tested are Textra, Message+, and Samsung Messages (Samsung phones only).
Don't forget to make the other app your default to test it properly.
Trouble sending. Check options
If you receive the error message "Trouble sending. Check options," the data might be corrupted. In this case, you must clear the data.
Clearing data will delete all message settings, so you must move carefully.
Go to Settings
Find and click on Apps
Tap on Messages
Tap on Storage
Tap Clear data
You can also clear the app cache on the same screen. This will delete the temporary files as well.
Clear app cache
When you run into a problem with an app, this is one of the common things you will hear: Clear the cache.
That's because it works. Clearing the cache is almost equivalent to restarting your phone (for that app).
Depending on your phone, there are a few ways to clear the Google Messages cache.
Before doing that, if you have typed a long message, you should copy it somewhere to be safe. Follow the steps:
Go to Settings
Find and tap on Apps
Find Messages
Click on Storage
Tap on Clear cache
Also, force stop the app on the same settings page to ensure it is fully closed. Try sending the message now.
Related: Google Messages or Samsung Messages
No SMS allowance
The third common reason is that you don't have enough balance or not any remaining SMS in your plan.
Some carriers offer a limited number of SMS on some plans, so you may have used all your messages allowance.
Check for the default messages app
Another reason for Google Messages not sending SMS is that you have another app set to the default messaging app.
Here is how to check for the default app:
Go to Settings
Find and tap on Apps
Find the Messages app and open it
Under the "Defaults" section, you will find the "Messaging app" option. Tap on it and see what app is the default messaging app. Choose Messages (with the Messages icon) to set it as the default.
Try reinstalling the app
Reinstalling the app can fix simple issues of Google Messages not sending messages. Messages is pre-installed on many phones, but is can still be uninstalled.
Also, the app won't delete your messages as they are saved elsewhere. The easiest way to reinstall it is to go to Google Play and type "Google Messages."
Then tap on the "Uninstall" button. An "Install" button will appear after that. Install the app, open it, and try sending messages.
Carrier issue
Some Reddit users have complained about their carriers controlling RCS. Android Authority also reported that AT&T is trying to take over RCS.
Although it is unlikely, it's possible. You should try sending messages to other contacts (on different networks) to see if the issue persists.
Try inserting a different SIM card if you have any, or contact your SIM provider for answers.
Related: Features of Google Messages You Must Try
Adaptive Connectivity issue (Pixel phones)
Some users reported on Reddit that turning off Adapting Connectivity and restarting your phone fixes the issue.
I don't have Google Pixel, but it's worth trying if you do. Here is how to turn it off:
Go to Settings
Find and tap Networks & Internet
Find and disable Adaptive Connectivity
Restart your phone
Conclusion
Google Messages is still new and needs time to develop. Even though it has issues, it is one of the best Android apps today.
With that said, this is all for Google Messages not sending messages. Please share your feedback below and help others fix this issue.
Madhsudhan Khemchandani has a bachelor's degree in Software Engineering (Honours). He has been writing articles on apps and software for over five years. He has also made over 200 videos on his YouTube channel. Read more about him on the about page.