YouTube, Android, and Google Drive are a few of Google's many services. In this list, two popular services are Google Workspace and Gmail. Both are similar, so many users may get confused. The article takes a ride and covers Google Workspace vs. Gmail to help you decide.
Google Workspace vs. Gmail: Quick Verdict
Google Workspace is a package of 14 applications, including Gmail, Google Chat, Jamboard, and Sites. It is best used by businesses to communicate internally. Gmail is a free emailing service for personal use. It comes with 15 GB of permanent storage, whereas Google Workspace gives you from 100 GB to unlimited storage according to the set plan.
Usage
As mentioned, Google Workspace is best used in businesses with many employees. Whether you have a basic company website or multiple teams of users, you can take advantage of Google Workspace and create a company domain name account for each user; for example, [email protected]
Gmail contrarily comes with a ".gmail.com" extension email, which can't be changed. Gmail is best used personally to send and receive emails.
Both Gmail on Google Workspace and Gmail personal use the same 128-bit encryption to secure email transfers.
Apps difference
A Google account gives you access to a wide range of apps. The main benefit of Google Workspace is that you get to create your domain account and get additional admin features.
It also makes it easier to communicate with your team members. If utilized properly, a company won't need to use tools like Slack, Microsoft 365, Zoom, etc.
Most of the apps on both offer the same features. For example, with your free Gmail account, you can create and share a Google Docs document with others and collaborate in real-time.
Related: Google Workspace vs. Slack
All Google Workspace apps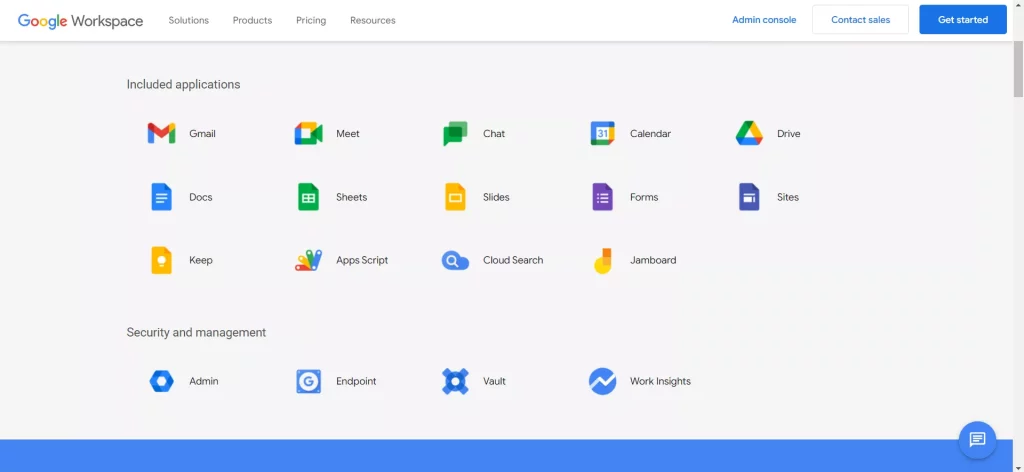 Here are the apps that you get in Google Workspace:
Gmail (ad-free) emailing service
Google Drive cloud storage platform
Google Meet to video call others
Calendar to manage your schedules
Google Chat to chat with employees
Jamboard boards for presentations
Google Keep for creating and saving notes
Docs to create, share, and print documents
Google Sheets to create and save spreadsheets
Slides for meetings and presentations
Google Sites to create company site for employees
Google Forms to collect answers and polls from users and employees
Other than mentioned, you get an admin console, single sign-on for company users, Endpoint, and Vault management features to manage your company.
All Gmail apps
The Gmail account comes with the basic Google apps, including Gmail (with ads), Drive, Meet, Calendar, Chat, Google Keep, Docs, Sheets, Slides, and Google Forms.
Signing up
The sign-up process for both is completely different. Google Workspace has lots of options, and you need to integrate your domain DNS so that Google can verify your ownership. In some cases, you need a developer or the IT department to sign up.
Gmail is quick and easy. All you need is a unique name, phone number, password, and backup email to create an account.
Total storage you get
Google Workspace comes in multiple plans. The Business Starter one gives you 30 GB of storage, but you can subscribe to Business Standard or Plus giving you 2 TB and 5 TB, respectively. There is also an Enterprise plan which lets you decide how much storage you want.
The storage is combined for all the Google services, including Gmail, Google Drive, Docs, Sheets, etc.
Gmail comes with 15 GB of storage. Like Google Workspace, it is the combined storage for all Google services that come with the account.
There is an option for personal users who want more storage without signing up for Google Workspace. Google One is specially designed to get more paid cloud storage. It also offers options to manage your account storage. The service offers 100 GB, 1 TB, 2 TB, and even 5 TB plans.
Related: Google Drive vs. Photos vs. One
Pricing
This here changes everything. Google Workspace is a premium service costing on the number of users. The Business Starter plan costs $6 per user per month, offering video calls for up to 100 participants.
The Business Standard plan costs $12, and you get 2 TB storage and up to 150 video calls with a recording feature.
The final plan costs $18 and offers extended storage, a 500 participant limit, and enhanced admin and security tools.
The Enterprise subscription is for larger teams and can only be subscribed by contacting sales.
Which one is for you?
Businesses with many employees can benefit from Google Workspace. A company with a few employees should consider going somewhere else because Google Workspace is a bit more expensive than some other services. There are apps like Zoho, which are cost-effective.
You should use your personal Gmail account if you are self-employed because Google Workspace for a single user is not entirely worth it.
Google Workspace vs. Gmail: Links
Summary
Google Workspace and Gmail are two separate services, and one will benefit more if used properly. Anyway, thanks for reading this Google Workspace vs. Gmail article. Please share your thoughts in the comments because it helps others decide between the two. Please also subscribe to the newsletter to stay in touch.