I have written multiple articles on buy now and pay later apps but never compared Klarna and Sezzle. Both are widely popular, and although there are a few differences, both are doing pretty good. So, how would both stand against each other? Let's find out in the Klarna vs. Sezzle comparison.
Klarna vs. Sezzle: Quick comparison
| Feature | Klarna | Sezzle |
| --- | --- | --- |
| Supported nations | Over 10 | US and Canada |
| Starting limit | Around $1000 | $2500 |
| Maximum limit | – | – |
| Repayment cycle | Fortnightly | Fortnightly |
| Repayment time | 6 weeks | 6 weeks |
| Late fee | $3 to $15 | $10 |
| Website | Klarna | Sezzle |
Quick comparison table
Accessibility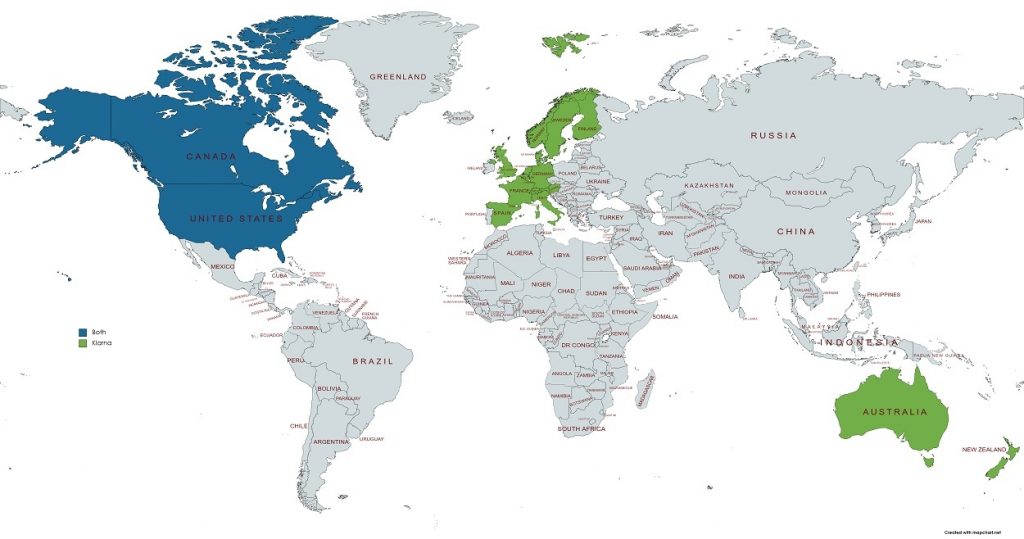 Klarna is one of the apps available in over 10 nations. You can use the app as long as you are in one of the below countries.
Australia
Austria
Belgium

Canada

Denmark
Finland
France
Germany
Italy
The Netherlands
New Zealand
Norway
Spain
Sweden
Switzerland
United Kingdom

United States
Sezzle, on the other hand, is only offered in the US and Canada, but merchants from other countries can sign up for the service. Over 34,000 stores across both countries offer the service.
Signing up
Klarna may offer options to sign up with local brands. For instance, in Australia, people can sign up and use their Commonwealth Bank account to use Klarna.
Additional options to sign up with Klarna are:
card or bank account details
phone number
date of birth (age verification)
email address
The first steps are to create the account, while the repay information is provided later before making the first purchase.
Sezzle also asks for the same type of data. The first action is to verify the phone number. Once that's done, you are asked to give:
email address
card or bank details
verified ID
date of birth
Credit check and affect
Both Klarna and Sezzle do a soft credit check which does not affect your score but gives both businesses an idea of your overall score.
Related: Klarna vs. Afterpay
How do both work?
Klarna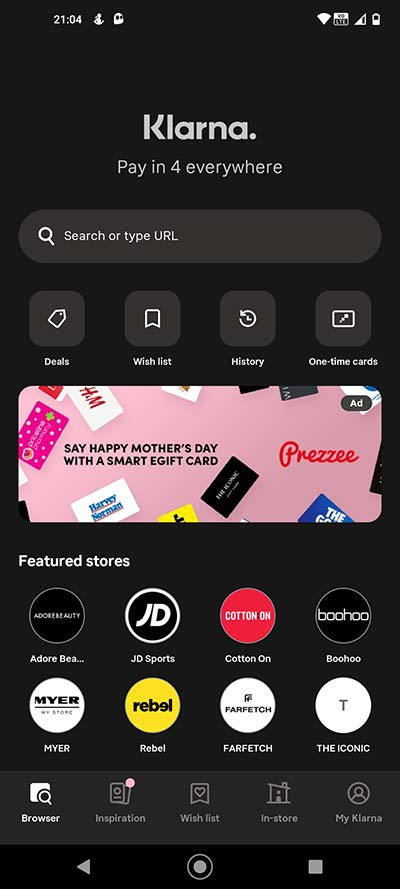 There are multiple ways to use Klarna. The Klarna app is integrated with a browser in which you can visit websites to shop. While visiting, an option called Pay with Klarna appears on the bottom centre of the screen. As the app is a browser, you might need to log in with the store's account. For example, while shopping on eBay, you will need to sign in on eBay.
When you get to the checkout page, you tap on the "Pay with Klarna" button. The next step is to insert the amount that you want to spend. If the amount is more than your limit, an error displays on top of your maximum limit.
The next part is where Klarna gets creative and creates a ghost card, also called a one-time card. The ghost has the amount that you put in and can be used for that purchase.
You can also use Klarna in-store. The app offers to generate a digital card to add to Google or Apple Pay. However, to use the card, you will need to:
Go to the Klarna app
Tap on the in-store option
Search for the store
Insert the amount on the next screen
Tap on the repayment method and confirm the repayment dates
Finally, use the card in Google or Apple Pay
Sezzle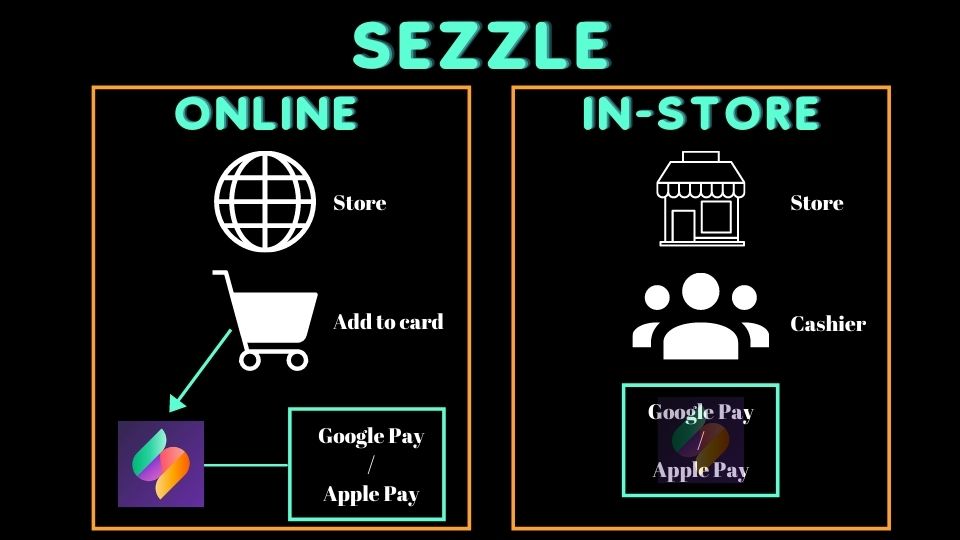 Sezzle contrarily is like Afterpay, where you find a "Pay with Sezzle" option and log in to your account to pay online. The company also offers a virtual card to add to Google or Apple Pay. You need to apply for the card to access it in the app, and the card's limit might be different than your maximum limit.
The virtual card works in limited stores (in-store), so you will need to make sure that the brand supports Sezzle virtual card before using the card in-store.
Limits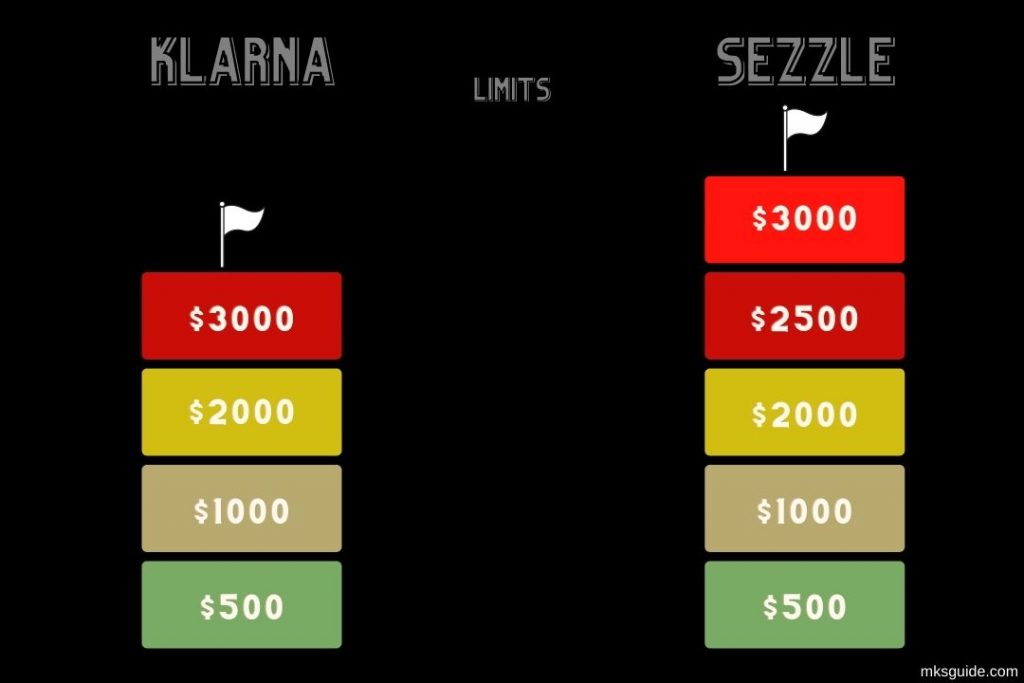 The available limit is the next section of the Klarna vs. Sezzle comparison. Klarna is generous and can offer up to $1000 in the beginning. The company has said that depending on your account status; we can increase the limit.
The website also mentions that you can try purchasing an item more expensive than your maximum limit and see if the system grants the request. If it does, your limit will automatically increase.
Related: Klarna vs. PayPal
Sezzle, on the other hand, comes with a $2500 limit, but before making the purchase, a few things are checked to make sure that you can pay back on time. One of them is 25% of the order money upfront. You can also expect an increased limit after some successful repayments.
Repayments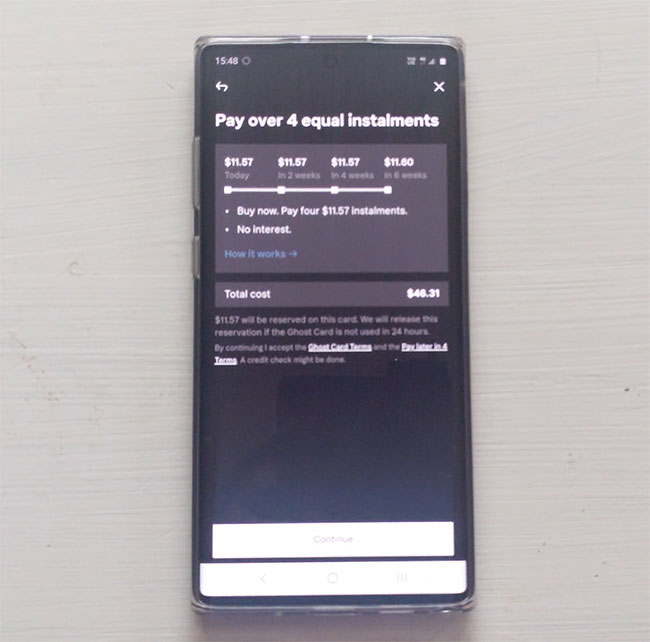 Klarna offers 6 weeks to pay back. The first payment is the day of the purchase, while the rest are every 2 weeks. You also have the option to "Snooze" the payment if you need extra time.
Sezzle works similarly and gives you 6 weeks to pay back. The first payment is the day of the shop, while the rest are every fortnight.
Late fees
Klarna
As Klarna is available in multiple regions, the late fee is region dependent. In Australia, the fee is between $3 and $15, depending on the total order value. The table below is taken from the website and covers the late fee (Australian Klarna website).
| Order value | Late fee | Maximum fee on order |
| --- | --- | --- |
| $0 to $59.99 | $3 | $9 |
| $60 to $99.99 | $5 | $15 |
| $100 to $199.99 | $7 | $21 |
| $200+ | $15 | $45 |
Klarna late fee in Australia
Sezzle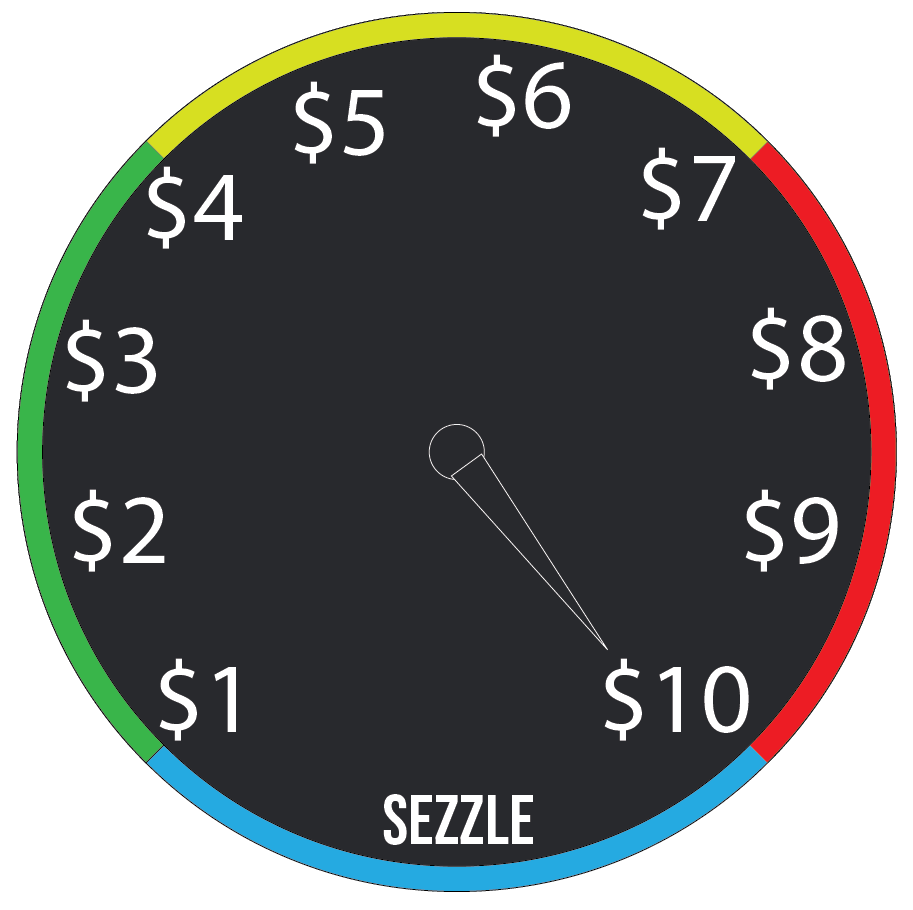 You may get two extra days to clear the payment if you miss a payment. The company charges a $10 fee, and your account is deactivated until you don't payback.
Related: Afterpay vs. Sezzle
Which one is for you?
Well, it's a tricky question. From what we have discovered above, I suggest going with Klarna if you want an app to shop online. It offers a decent amount of money to spend, and you can spend on more stores than Sezzle. Sezzle is great and offers over $2000, but it is not available in as many stores as Klarna.
The third and the option I like is signing up for both and enjoying both on different occasions. For example, if one service offers some cashback on a particular store, use that one. It is a win-win decision.
Links
Summary
With the rapid increase in online shopping, the buy now and pay later period is ending anywhere soon, and with new services, we might get good rewards. So, I recommend signing up for at least one service to enjoy any rewards in the future.
Anyway, the article Klarna vs. Sezzle talked about the two services. What do you think of both? Do you have any suggestions? Would you please share in the comments so we can discuss further?