Task and project management is essential with many types of work. There are several programs to manage tasks, and two of those are Trello and Evernote. For a new team, the article Trello vs. Evernote will help choose between the two.
Intro
Both are used somewhat for different reasons. Trello is a management tool to help you organise tasks and maintain projects, while Evernote is a note-taking tool with a few task management features.
How Trello works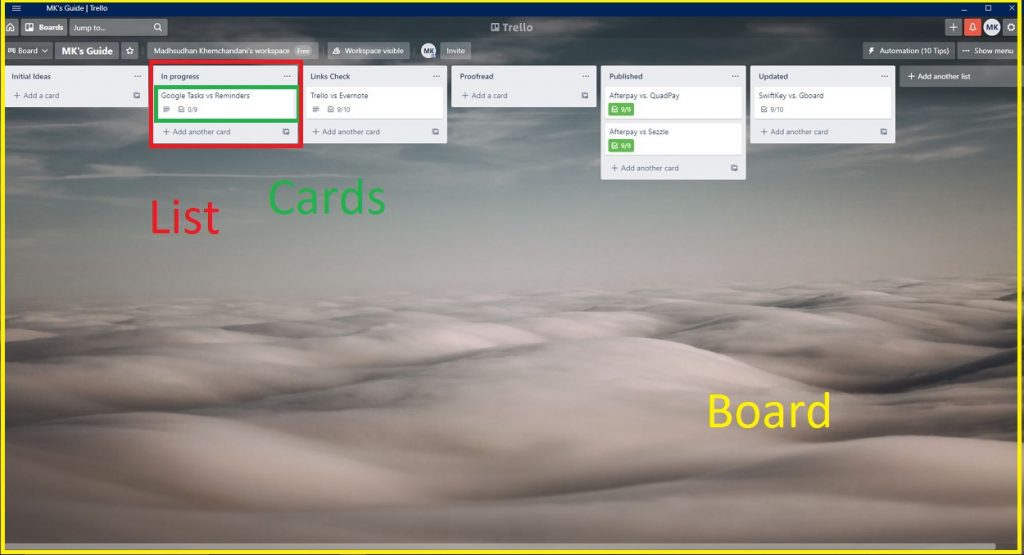 The home screen is where you manage your workspaces and boards.
Workspaces are for separating different work types.
Boards are like projects. Those are added to workspaces.
On the mainboard screen, you add lists. Those can be the project timeline (planning, developing, testing, etc.).
Under each list, you add cards. Those are the parts of the project (board).
You can add members to specific boards to manage the task flow.
Users that have access to a board can be added to specific cards.
Each card comes with multiple options, including a checklist, attachments, labels, dates, and power-ups.
You can move around cards from one list to another. This helps with the project flow.
How Evernote works
Evernote, on the contrary, is a note-taking application with reminding options. Even though it's an application to save notes, it is one of the advanced apps with a touch of management tools.
You get notebooks, and under each, you have notes.
The search field can search for titles and text within notes for free.
You can assign tags on notes to search them quickly.
Related: Samsung Notes vs. Evernote
Integrations
Integrations are part of both to make the experience a little bit easier. For example, Trello comes with integrations and power-ups. Combined, you get over 250 apps to add to your projects (23 June 2021). Some popular apps are:
Google Drive
OneDrive
Voting
Slack
Evernote
Planway
List Limits
Dropbox
Custom fields
Giphy
Evernote can be linked with Trello as an integration. The complete list can be found on the website. You can install one power-up on a free account, but there are 30 bonus power-ups that you can install for free.
The users with the gold membership can install up to three power-ups, while the Business Class and Enterprise subscriptions users can install almost all of them.
Evernote, on the other hand, comes with a few integrations:
Gmail
Outlook
Google Drive
Slack
Microsoft Teams
The official page gives more details about each app and what can be achieved.
Team options
In this round of Trello vs. Evernote, we discover the team options. Trello offers to add users to a board and cards. The tool can email an invitation link or create a link to share in other apps.
Users can be added to cards for better project management. You can also add users to a particular card from other workspaces.
Evernote, in contrast, offers to invite people to notes. You can share the note with edit and invite permissions, edit only, and view-only permissions.
Platforms
Both are available for modern platforms as well as browsers. Both can be accessed on:
Google Chrome
Mozilla Firefox
Safari
Microsoft Edge
Other than that, you can install both on Android, iOS, macOS, and Windows. However, most of the integrations only work with desktop applications.
Templates
In this section of Trello vs. Evernote, we check the templates both offer. Trello templates are created by users and are free to use. The tool offers over 100 templates split into 14 categories, including business, design, productivity, sales, and support.
Evernote comes with over 55 templates to better organise your notes. You can add templates to new notes.
Sign in
With single sign-on options these days, it's straightforward to sign in to your account. Trello supports:
Google
Microsoft
Apple
Slack
You can sign up or in with any of those services. Evernote contrarily offers Google and Apple account sign-in options.
Pricing
Both offer a free plan which is more than enough for individuals. However, in some cases, you need more options and this is where premium subscriptions come into place. Both are subscription-based tools where you pay monthly or yearly, and both come with multiple plans to suit your needs.
Trello comes in two paid subscriptions, and an add-on called the gold membership, which offers slightly more features than the free plan. The business plan costs $10 per month, while you need to contact the sales team if interested in the enterprise plan.
Evernote contrarily offers premium (individuals) and business (teams) plans. The premium plan costs $8 per month and provides more upload limits, powerful search, and unlimited devices.
The business plan price is $16.5 per user per month, and you get features such as team activity history and team-focused options.
Related: Google Reminders vs. Tasks
Which one is for you?
It depends on what you need the tool for. As mentioned, Trello is a project management program, so if you are looking to manage your projects, Trello is for you.
Evernote is for saving notes, so if you need a note-taking app for your team, go with Evernote. The best option is to use both. As Evernote is available as an app for Trello, both can be used together to boost your work.
Trello vs. Evernote: Website
Bottom line
I have been using both for a long time, and I feel that both tools can work together efficiently.
The article: Trello vs. Evernote covered the essential aspects of both. I hope you found it helpful. Let me know your views or any suggestions you may have in the comments so that other readers can benefit.