Last updated: 30 June 2020 | Reading time: 6.5 minutes | Watching time: 8 minutes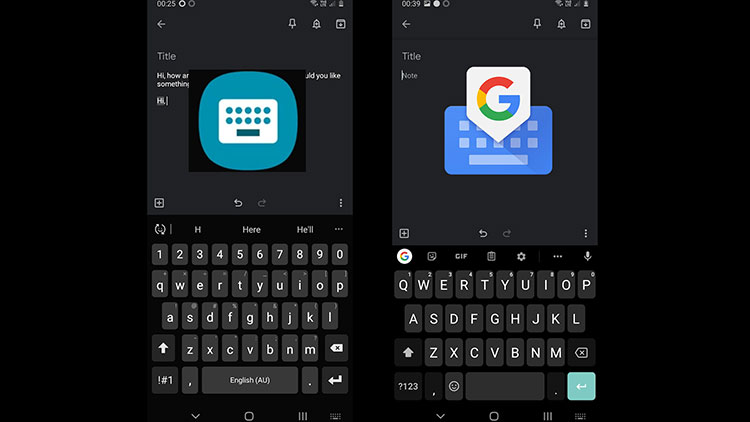 There are many keyboard apps, and Gboard and Samsung Keyboard are two of them. Samsung Keyboard is limited to Samsung devices, while Gboard is available for most of the Android and iPhone devices. How do both differ, and which one is for you? The article covers Samsung Keyboard vs Gboard (2020).
Table of contents
Samsung Keyboard
The official pre-installed keyboard for Samsung devices is fast and trusted worldwide. On every new phone release from Samsung, we see many new features in the keyboard app.
The app is not available on Google Play, but some websites offer the APK version to install.

Gboard
The official pre-installed keyboard app on many Android models. It has improved a lot in recent months.
In fact, our tests found that in terms of predictions, Gboard outranks SwiftKey. The app has more than a billion downloads with an average user-based rating of 4.5.
Samsung Keyboard vs. Gboard
Interface
Both come with a row which has almost the same functionalities. The row shows suggestions as we type, whereas you can also find some keyboard options to help you type faster. Samsung keyboard provides emojis, stickers, GIF, voice, settings, and a menu in which you can add more options and reorder the row.
Gboard, on the contrary, offers Google icon, stickers, GIF, clipboard, keyboard settings, and a menu to change keyboard settings and modify the row. Browsing the internet is possible with G-Icon.

Themes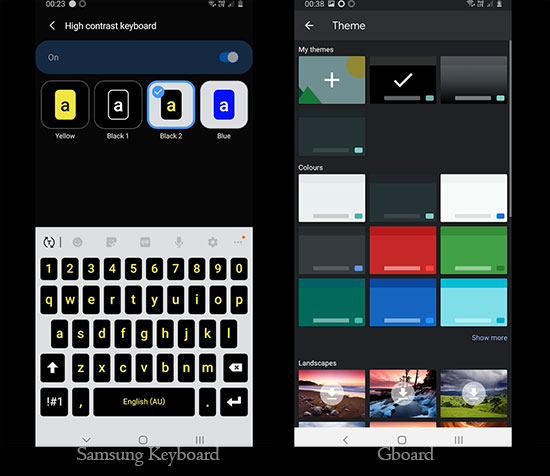 Samsung keyboard does not come with themes, but it provides a high contrast mode. In this mode, you get a few strong-colour themes which can be helpful in direct sunlight. Other than that, you can enable or disable the dark theme if your phone's is using the light theme.
Gboard, on the contrary, comes with many themes, styles, and backgrounds. The good thing is, you can apply any style and background to any theme. It also offers to add a custom background image. Furthermore, you can extend the collection by installing Magisk app on your Android and installing Gboard Themes.
Related: SwiftKey vs Gboard | Which One is the Ultimate Choice in 2020?

Word prediction
Both use different algorithms to predict the next word. Like other keyboard apps, Samsung Keyboard uses AI to suggest the next word. It remembers words quickly, and it tends to suggest recently used words.
Gboard contrarily does not save every word you type. It checks how often you are using that word or the sentence. If the word is used quite often, it saves and suggests. The app also uses AI to predict the next word, which I believe is more accurate than Samsung Keyboard.

Auto-correction
For a bilingual person who speaks and types in two languages, auto-correction might not be helpful, but for those who type in one language, auto-correction is essential. To make this Samsung Keyboard vs Gboard a fair comparison, I deleted the personal dictionary and self-learned words.
Here is the piece of text I'm going to type in both. I'll be making a mistake in each keyword to see if the app can correct it.
Hi, I was thinking about going to supermarket. Would you like me to buy pomegranate?
Result: From the below video, we can see that both do a good job. Although Gboard was a little bit more accurate, both will do the job most of the time.
Flow typing
The next section is about flow typing. What is the best way to test that? Well, let's type the same sentences in both. Here is what I'm going to type.
Hi, my name is John. I live in Australia, and I love it. The only thing I don't like is the weather. In my city, it keeps changing.
Result: Again, to find a better app, we will go to the video and see by ourselves. Both did a good job, although Gboard was more accurate.
Samsung Keyboard allows using keyboard keys to move around the highlighter in the message instead of flow-typing.
Gboard, on the other hand, only offers to turn Glide on and off. The app also comes with a couple of more options, including enable/disable gesture delete and enable/disable gesture cursor control to make your life a little bit easier.

Dictionary
Samsung Keyboard saves self-learned words in the dictionary, which you can delete at any time in "Reset to default settings" menu. Gboard learns words and you have an option to save words manually (with shortcut). Both are saved separately, and you can delete one or both at any time.
The shortcuts can be used to type words if you type the acronym. When you type, the acronym, the word(s) are visible in the suggestion row. Take a look at the photo to get an idea.

Languages
I could not find the total number of languages Samsung Keyboards supports, but in the languages menu, there are 87 languages, so let's assume that it supports that number. It allows multiple typing inputs for many languages, but inputs are limited compared to Gboard.
For example, English US and AU offer Qwerty and 3×4 keyboard input modes whereas, on Gboard, you have options including Qwerty, Qwerts, PC, and more. Samsung Keyboard offers to type in multiple languages. To switch between the languages, swipe left or right on the space bar.
Gboard, on the other hand, comes with over 500 languages. The keyboard allows you to type in different languages. To switch between the installed languages, tap and hold on the space bar. This feature also lets you switch between keyboard apps as well.
Gboard moreover, comes with an element in which you type in English and the app types in your language. Some languages support this, and to know whether your language supports, in the input mode of your language, look for "abc –> your_language".
Related: Google Messages vs Samsung Messages | Which One is Better in 2020?

Role of internet
The role of the internet is limited to Gboard as Samsung Keyboard does not support internet browsing. Gboard only offers Google search and it uses an easy to use and copy interface to help you share search results. It offers to share places, events, GIFs, etc.

Translation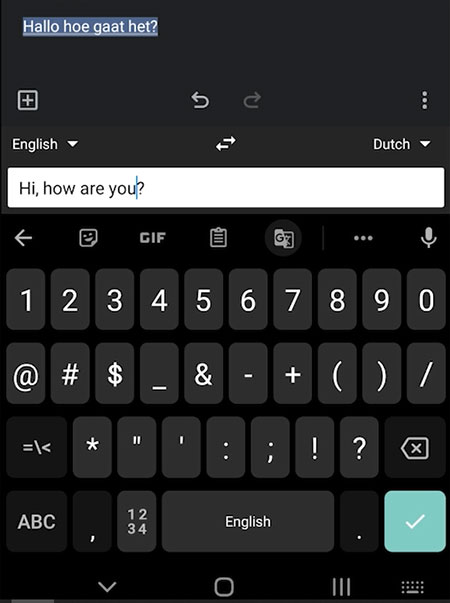 Gboard comes with the feature of translation. The app uses Google Translate to convert the text. It supports over 70 languages, and it works by typing in the selected language, and the app translates and types in the target language.

Other features
Let's see some of the little things which might make a difference. Some of the below features are based on personal experience and might not be fully relevant to each user.
Samsung Keyboard
Gboard

The app allows adding custom symbols in the period menu.

Samsung Keyboard supports text and images in the clipboard.

The keyboard picks up the speed very quickly when you hold the backwards key.

The keyboard enables the incognito mode in Chrome and Firefox private mode.

Gboard supports 9 categories of emojis whereas Samsung Keyboard supports 8.

Gboard comes with a search bar to search for emojis as well as a different search bar to search for all media (emoji, sticker, and GIF).

It suggests emoji-stickers when you add an emoji in selected apps (WhatsApp, Messenger, Google Messages, etc).
Which one is for you?
Gboard
Rating on Google Play: 4.5
---
Overall, Gboard gets the win. For a regular person who types in English, both will do the job. Gboard has the upper hand in internet browsing, themes, emojis, and languages. For a non-native speaker, a tech-savvy, or for someone who wants a new style very often, then Gboard is the choice.
Wrap up
The Samsung Keyboard vs Gboard compared the basic features. I hope the article helped. Please let me know your views in the comments below, so we can discuss more.