Last updated: 16 Jun 2021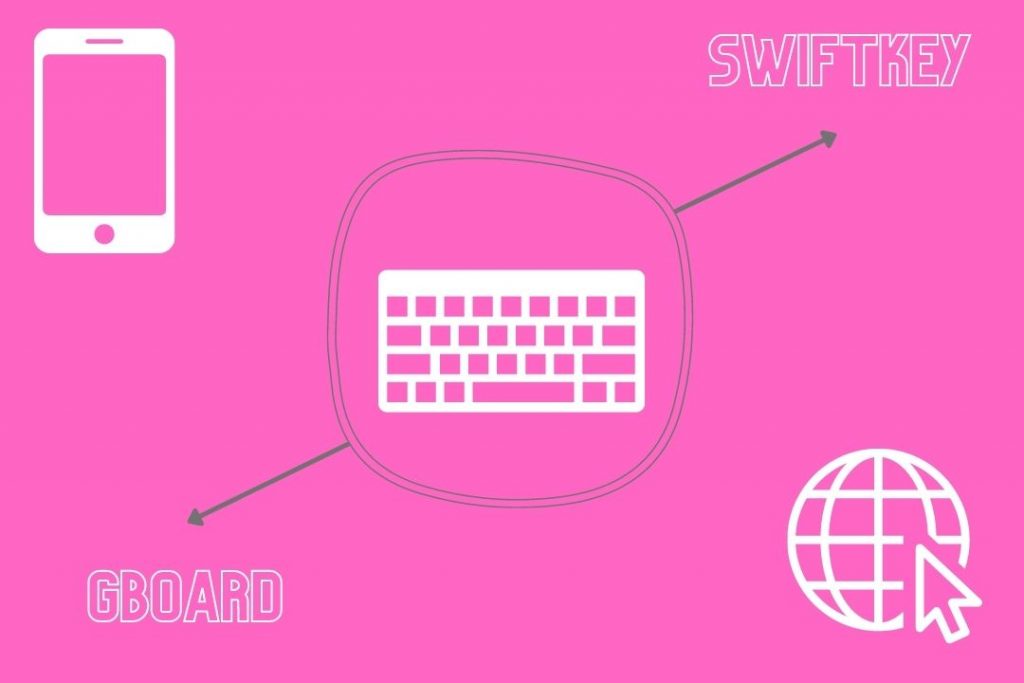 Typing is a part of our life. With new social media and notepad apps, people are typing more and more. Two apps from two major brands are SwiftKey and Gboard. SwiftKey is experienced, but Gboard comes with Google's machine learning. So, do both compare in 2021? The article does an in-depth review and covers SwiftKey vs. Gboard.
Quick comparison
SwiftKey advantages
The

clipboard

is more advanced than Gboard's.
4 different types of

keypress sounds

.
The keyboard

size option

is more flexible.
The app records

typing stats

.
You get over 300

themes

.
Gboard advantages
The top

emoji row

makes it easier to pick your favourite emojis.
The app can be integrated with the

Bitmoji app

.
You get

on-screen options

cut, copy, and select
You can

search

for emojis, GIFs, and stickers altogether.
Word prediction
The definition of word prediction is predicting a word that suits the typed word or sentence. From past data to the language, a keyboard must figure out what would be the next word.
Compared to Gboard, SwiftKey remembers the typed words quickly, and the next time you type, you see the suggestions. SwiftKey also predicts and suggest the numbers.
Gboard, on the contrary, checks how often you type the exact words. If very often, then it remembers; otherwise, it doesn't. For my address, I had to type many times before Gboard started advising the street name. Gboard does not suggest and numbers.
Winner: Tie | Score: SwiftKey: 1 | Gboard: 1
Flow typing
SwiftKey's flow typing and Gboard's glide typing are the same things. The accuracy of both can be measured with a test. To make it a fair test, I deleted the personal dictionary and learned words. Here is the sentence I typed in both:
If you are going to the market, can you please buy some pomegranate? Also, some cheese and butter.
According to the results (video), both are accurate when you type the correct spelling, but Gboard uses deeper AI learning and types the correct word when it is wrong.
Winner: Tie | Score: SwiftKey: 2 | Gboard: 2
Auto-correction
For this test, I have typed a sentence with at least one error. The test will see how both can correct the words. The sentence we are testing is:
If I purchase this app, will my phone work faster? Are there any alternatives?
SwiftKey misspelt the word "app" and typed "all". Gboard, on the other hand, was entirely accurate. This round goes to Gboard.
Winner: Gboard | Score: SwiftKey: 2 | Gboard: 3
Search engine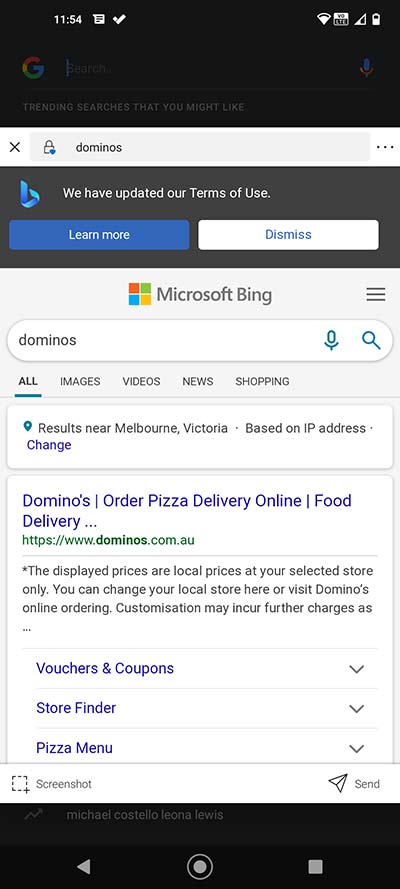 | SwiftKey | Gboard |
| --- | --- |
| Bing | Google | None |
Search engine option table
Browsing is a big thing now. SwiftKey comes with Bing and Google search. By default, Bing is selected, but you can change that to Google.
When you search, a new window displays the search results. It also comes with an option to screenshot the current page and share it in other apps.
Related: SwiftKey vs. Samsung Keyboard
The Gboard app used a Google search button that could do limited searches for events, movies, restaurants, parks, etc., but the app no longer offers the button.
Winner: SwiftKey| Score: SwiftKey: 3 | Gboard: 3
Themes
Microsoft SwiftKey comes with a store where users can download over 300 themes for free. You have options to add a background image, enable/disable borders, and add or remove the number row.
Check out: 7 Best SwiftKey Themes
Gboard, on the other hand, comes with a few themes, background images, and styles. The benefit Gboard has is mixing backgrounds with styles. This gives you more options than available in the app,
Regarding the button positions, the size for each button and the distance in Gboard is more extensive than in SwiftKey, which helps small screen devices.
Winner: Tie | Score: SwiftKey: 4 | Gboard: 4
Languages
Both support over 500 languages. Last year, SwiftKey added many new languages. The app also allows typing in five languages at the same time. You can swipe the spacebar to move through languages.
Gboard also allows typing in multiple languages. Both keyboards support different input types for so many languages. Depending on the language, one might support more input modes than the other.
Winner: Tie | Score: SwiftKey: 4 | Gboard: 4
Accents and special characters
Adding accents and special characters in the SwiftKey vs, Gboard review was essential. Regarding showing hidden accents when you hold a key, SwiftKey does a better job. The option is disabled in the settings, but it shows other accents and special characters when you press and hold a key.
Gboard only shows one character except while holding the period (.) key in which we find more options than in SwiftKey.
Winner: Tie | Score: SwiftKey: 5 | Gboard: 5
Emoji and GIF
Both come with a wide range of emojis, and both support GIFs. SwiftKey suggests emojis as you type, while Gboard comes with an emoji search tool. Gboard also suggests the emoji while typing, but it's not consistent.
Swiping the space bar from right to left opens the emoji, GIF, and sticker menu in Gboard. The tool also offers an emoji row that shows the most used emojis, while you can integrate the app with the [popup_anything id="18551″] app and share your personalised emojis.
Related: Google Messages vs. Samsung Messages
With stickers in SwiftKey, you can create collections and save them to use later. SwiftKey also comes with a basic image editor in which you can add stickers to images before sharing.
Winner: Tie | Score: SwiftKey: 6 | Gboard: 6
Translation
The final round of SwiftKey vs. Gboard is about the translation. Gboard uses Google Translate, while Bing powers SwiftKey. Gboard supports 105 languages, and SwiftKey supports 79 languages. SwiftKey can work with Microsoft Translator to translate the text offline.
Winner: Tie | Score: SwiftKey: 7 | Gboard: 7
Which one is the winner?
The score of this comparison is the same, so it depends on the user and the experience with either or both.
Wrap up
Here is the end of the SwiftKey vs. Gboard blog post. When I first wrote this post, SwiftKey was the winner, and now it's a tie. If we consider the significant rounds, most of the features are the same.
The main difference comes to those little elements which can change a user's mind. Anyway, thanks for reading. There is nothing more valuable than a user's reviews about the app, so please share your views down below and share the knowledge with other users reading this blog post.