Twitch Studio and OBS are two streaming tools to stream on Twitch. Twitch Studio is specially designed for Twitch, while OBS is an all-in-one tool supporting multiple platforms.
Although both are great, comparisons like Twitch Studio vs. OBS are essential for choosing the best application for you.
Twitch Studio vs. OBS: The difference
Both are streaming tools to stream games, events, and other streamable stuff. Twitch Studio software is developed by Twitch, especially for Twitch. It can also be compared with Streamlabs OBS.
OBS, on the other hand, is an open-source program supporting over 50 streaming platforms, including Twitch, YouTube, and Facebook.
Twitch Studio is more focused on the new creators because it is easier. OBS is challenging to use, but over time you become a pro. Let's compare the features of both now.
Comparison video
Here is a video exploring both programs. It's all you need to learn about the two.
Features
Twitch Studio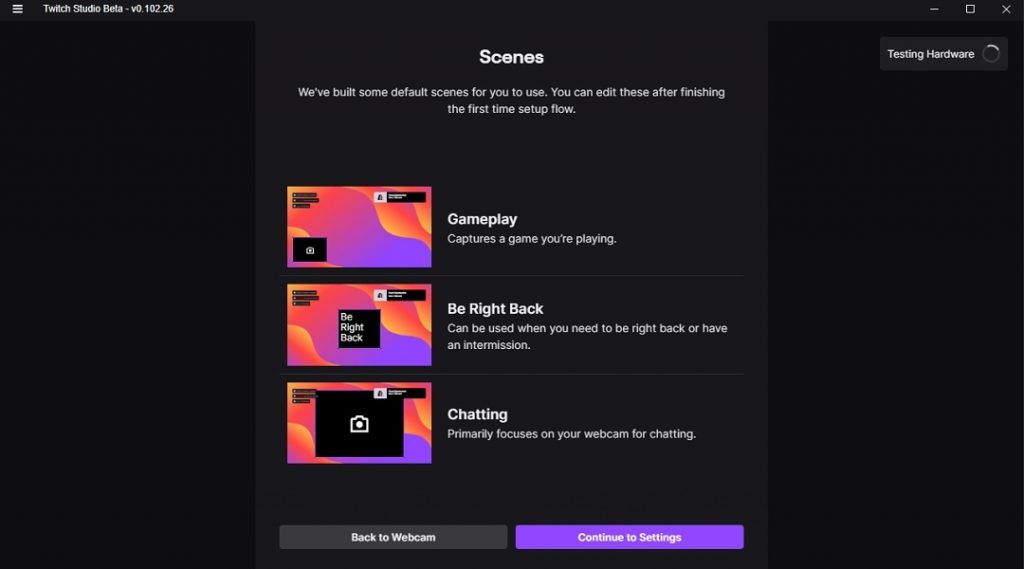 Auto game detection:

If you play a game, the software automatically detects the game and adds it to the recording/streaming scene.

Built-in chat and alerts:

It comes with a built-in chat and alert system directly connected to your Twitch account. You get to see and reply to chats and see your new followers straight in the program.

Quick setup:

The software is easy to install, set up, and connect with your Twitch account.

Built-in scenes:

Comes with live, be right back, and chatting scenes. You have an option to add more scenes.

Stream quality check:

The tool shows your internet speed and adjusts the stream quality for an uninterrupted experience. You can also re-check the speed or change settings at any time.
OBS
Multiple platforms support: Unlike Twitch Studio, OBS supports multiple platforms, including Twitch, YouTube, and Facebook.
Minimal performance impact: From the tests, OBS won both performance and battery usage tests.
Open-source: The software is open-source and available for people to contribute.
Plugins: It comes with over 100 plugins to extend its functionalities.
Sources and scenes: You can add more sources and then scenes to sources to organize your work.
Tests
This section of Twitch Studio vs. OBS will cover some tests to see which is beneficial for the CPU.
Performance test
We check the computer's performance score while opening and recording both tools in the performance test. The software with less effect wins the round.
During the start-up of Twitch Studio, the performance scale climbed from 55% to 80% (an increase of 30%). In contrast, the CPU usage moved to 65% while opening OBS Studio.
Both did not have a significant impact on the performance while recording the video.
Winner: OBS
Recording test
This test is for those who want to record on their computers. We record gameplay for about one minute and check the file size of the saved video file.
Twitch Studio saves videos in the FLV format, but an option to save in the MP4 is available. On the contrary, OBS saves files in the MKV file, but you can change to MP4, FLV, and MOV formats.
The file recorded in Twitch Studio consumed 13.1 MB on the default settings, whereas the video recorded in OBS took 22.3 MB of storage.
Winner: Twitch Studio
Power usage test
With the help of the Task Manager, this test checks the power usage of both tools while recording. This will give us an idea of the heavy tool between the two.
Twitch Studio drains more battery compared to OBS. While testing, the power usage of Twitch Studio was always either high or very high in Task Manager. In comparison, the power usage was always low while recording in OBS.
Winner: OBS
Related: Streamlabs vs. OBS
Platforms
Both are available on Windows and macOS. OBS has an edge for Linux users because the tool also supports Ubuntu. On Windows PC, Twitch Studio takes about 400 MB of storage, while OBS occupies 255 MB storage.
What's the final choice?
Answering this question is pretty easy. If you only want to stream on Twitch, go with Twitch Studio. If you're going to stream on other platforms or like to have an option, you should consider OBS with a plugin.
OBS is questioning to use to stream, but if you use Streamlabs or StreamElements (both use OBS) to stream your actions on multiple platforms.
Lastly, if you don't have a powerful PC, you should consider using OBS Studio.
Interested in Twitch Studio? Check out my full Twitch Studio Guide to help you get started.
Download
Conclusion
I have used both, and in terms of functionalities, both do not disappoint me. So, it depends on what type of computer you have and why you need a streaming tool.
The blog post: Twitch Studio vs. OBS covered the crucial tests and features. I hope you liked it. Please share your thoughts in the comments to help others.