From games to events, people share many types of videos on Twitch. Two tools that are widely used to stream on this platform are Twitch Studio and Streamlabs OBS.
What would a Twitch Studio vs. Streamlabs comparison look like? The article talks about that by covering a few tests and features.
What are both
As discussed, both are streaming and recording tools. Twitch Studio is a tool developed by Twitch to stream on the platform or record the computer screen. Streamlabs OBS is a piece of software designed from the OBS source code.
Streamlabs is a heavy tool because of extended options, but it makes streaming much more accessible. Along with Twitch, the tool supports YouTube, Twitter, Facebook and a few more platforms.
Features
Twitch Studio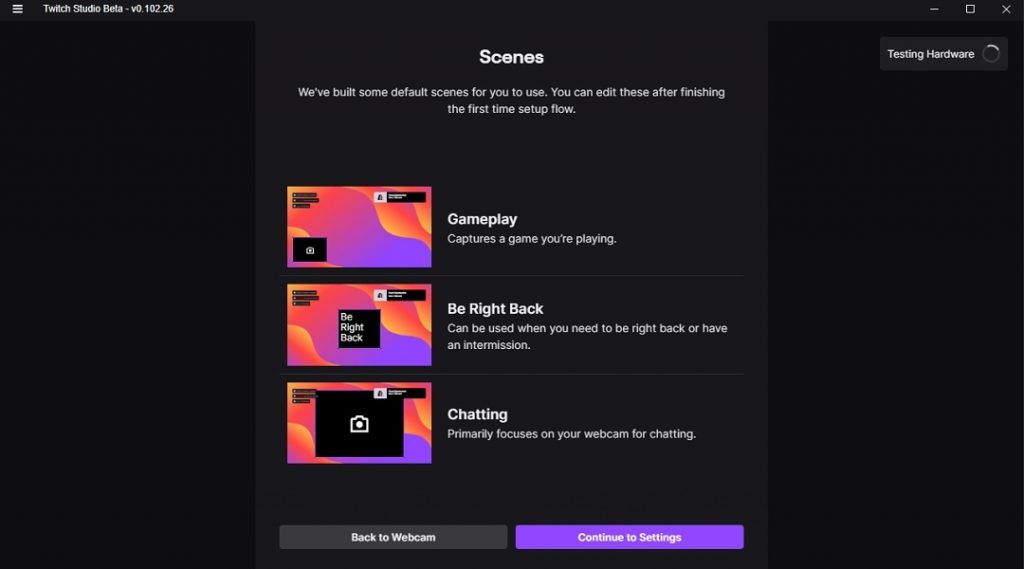 Quality checkup: When you open the app for the first time, you see bandwidth and hardware tests, and the software automatically adjusts the stream quality accordingly.
Low storage: Compared to Streamlabs OBS (600MB), Twitch Studio occupies 200 MB less storage.
Built-in scenes: The tool has three built-in screens: gameplay, be right back, and chatting. You can switch among those quickly.
Streamlabs
Mobile app: Streamlabs offers a mobile app for mobile streamers. You can stream games or chat with followers. The app supports on-screen overlays.
Open-source: Their project is open source for developers to see and fix bugs if they can.
Chatbot: You get a chatbot to help you chat with followers and filter spam chat.
Scenes: Like on Twitch Studio, you get several scenes automatically added to the program. These include: starting soon, live, be right back, intermission, and ending soon. Under each, there are different sources (screenshot).
Common
Easy setup: Streamlabs is a little bit challenging, but still, both are easy to set up.
Themes: You get many themes to customise the program.
Chat and alerts: Both support built-in chat and notifications to talk with fans and see alerts.
Auto game detection: Twitch Studio automatically adds the game to the gameplay if a game is playing. In comparison, Streamlabs OBS detects the game if you add a game capture scene.
Related: Streamlabs vs. StreamElements
Tests
Some tests are essential to complete this Twitch Studio vs. Streamlabs battle. I took three tests to choose the best app for your computer's performance and power.
Performance test
In the performance test, I saw an increase while booting up both, but compared to Twitch Studio, the impact of Streamlabs was less. While opening Twitch Studio, the performance increased by 30%, an increase of 10% more than Streamlabs.
Winner: Streamlabs OBS
Recording test
In this test, we see the size of the file recorded in both. For this test, I recorded a game for one minute and then checked the file size of both. On the default settings, the Twitch Studio file occupied 13.1 MB of storage, while the Streamlabs file took about 21 MB of space.
Keep in mind that Twitch Studio saves files in FLV extension, while Streamlabs saves in MP4 format. The extension can be changed in the settings.
Winner: Twitch Studio
Power usage
This section goes to Streamlabs because Twitch Studio consumed more power. In the task manager, the power usage of Twitch was high when idle, while it was very high during recording. In contrast, the power rating was moderate on the idle state, whereas it switched to very high while recording in Streamlabs.
Winner: Streamlabs
Also consider reading: Streamlabs vs. OBS
Platforms
Both are available for Windows and macOS operating systems. Streamlabs, as mentioned, is available for Android and iOS devices too.
Pricing
Twitch Studio is completely free. You don't pay anything to use the tool. Streamlabs, in contrast, offers a Prime subscription. The plan offers access to:
About 46 apps to enhance the tool
Store links
Pro themes
Multiple platforms stream simultaneously
Tip page customisation to match your brand or style
All those features are available at a monthly price of $19 or a yearly plan of $149.
People also consider: Twitch Studio vs. OBS
Which one is for you
Regarding the performance, both are heavy, so it is essential to have a high performing PC. Other than that, if you only want to stream on Twitch, then Twitch Studio is the one for you. It is simple and easy to use.
Streamlabs is an all-rounder program that supports multiple platforms and apps to give you more power. If you are looking to stream on other platforms, then try Streamlabs.
Twitch Studio vs. Streamlabs: Website links
Final words
With all being covered, it's time to end this Twitch Studio vs. Streamlabs blog post. I hope it helped you understand the difference and helped you find the tool that you needed. What are your thoughts? Would you like to share it with the rest of the readers so everyone can get the most of it?