Google Fit is a proper fitness app, and it uses a unique term called Heart Points. What are Heart Points, and what's a good score? The article covers all about that.
What are Heart Points
Google Fit Heart Points is a measure of your exercise. The points define how much you have exercised and at what intensity.
You gain one point for each minute walked at a medium to fast pace. However, if you walk for 15 seconds on four separate occasions, you won't get a point. This is because a point is awarded for intensity.
Also, some intense workouts such as running and cycling award 2 points per minute. The points are designed with the help of the World Health Organization.
Points vs. steps
Although both steps and points are connected, they don't impact each other. As mentioned, Heart Points are given for constant exercise.
As you keep taking steps, your heart points increase. The recommended daily steps in Google Fit is 6,000. However, this can be changed. The daily recommended points are 30, which can't be changed.
Points vs. calories
Like points and steps, calories are different. However, the more calories you burn, the more points you will likely earn.
Points are based on the activity type and intensity, and intense workouts burn more calories.
If you aim to burn calories and lose weight, you should look for vigorous exercises.
How are Heart Points calculated
Health and fitness apps use sensors to calculate your activity level. The Google Fit points system is amazing; you get different points for different exercises.
As mentioned, walking gives you one, and running gives you two points per minute.
Google Fit tracks your workout time, but you can add an activity later, and while adding, it shows an intensity slider correlated with points.
What's good Heart Points score
The World Health Organization and American Heart Association recommend 150 minutes of moderate weekly activity.
This makes it about 30 minutes a day, five days a week, or 22 heart points per day to maintain and lose weight.
Google Fit heart points are based on this recommendation. The weekly goal is 150 Heart Points, which in exercise minutes is 150.
Check out: Google Fit and Fitbit Comparison
Good Heart Points for weight loss
As we know, the minimum is 150 minutes weekly. However, the WHO website suggests that this is the starting point. Adults should exercise 150 to 300 minutes a week.
Getting at least 60 minutes of physical activity and gaining 60 points is a good start to reducing weight.
However, if you want to lose weight, you will benefit more from Samsung Health as the app has great weight management features. You should read my guide on using the app to reduce weight.
The best way to increase Heart Points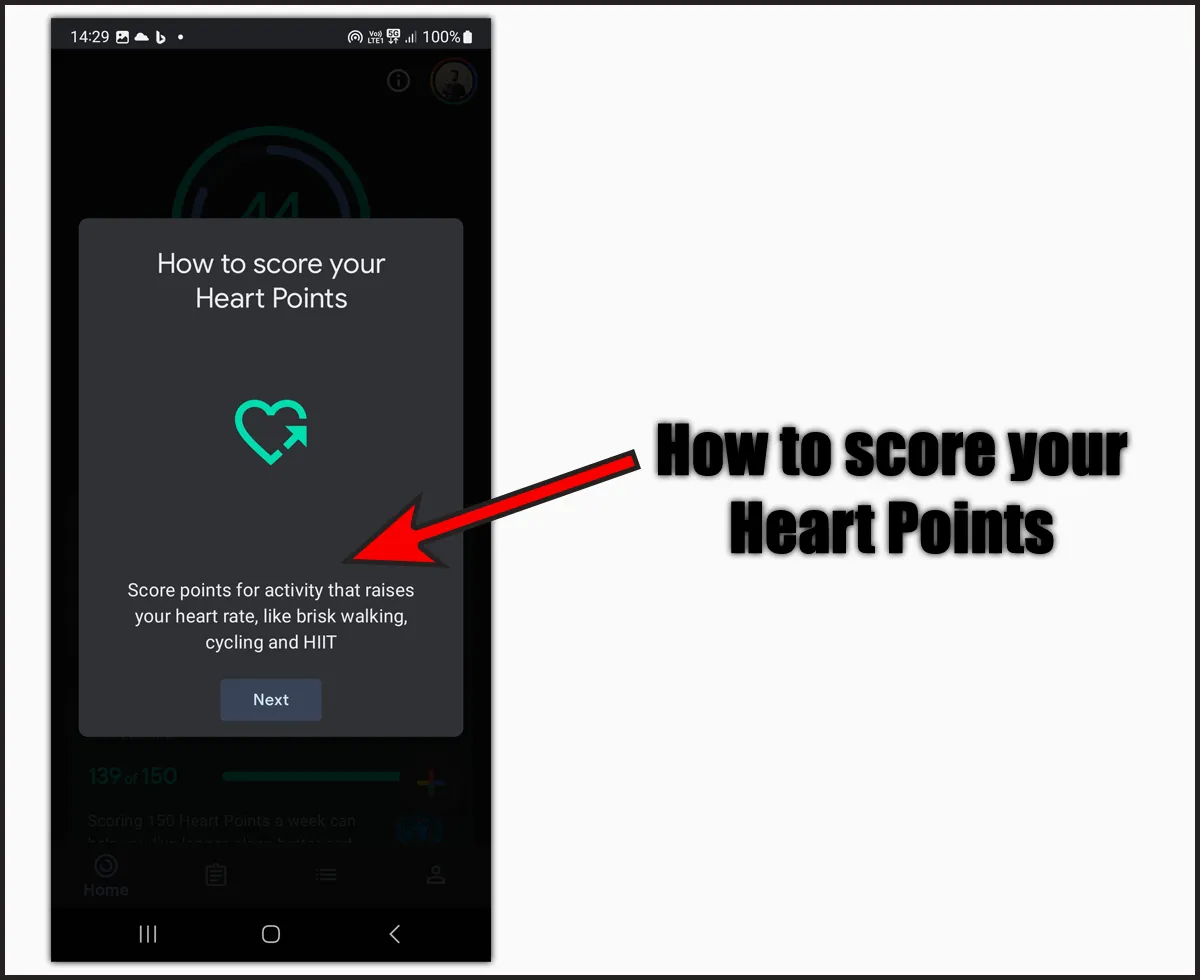 Switching activities
Doing vigorous activity is the best way to increase points. For example, if you walk for half an hour, you get 30 points, but if you run, you score double points without giving any extra time.
If you can't run for that long, walk for 15 minutes and run for the other time, and you will still get more points.
Connecting apps
If you use any other app for activities, you can connect it with Google Fit and get points. Google Fit supports most major fitness apps, and you can use apps like Health Sync to sync it with others.
Conclusion
Google Fit Heart Points measure your overall workout intensity and time. It is linked with the Google Fit app, affecting calories, workout speed, and steps.
If you use Google Fit, you should pay attention to this number as it can help you achieve your goals faster.
This is it for this guide. Please share your views on Heart Points below to improve this article.
My name is Madhsudhan Khemchandani. I have a bachelor's degree in Software Engineering (Honours). I have been writing articles on apps and software for over five years. I have also made over 200 videos on YouTube. Read more about me on the About page.