HitFilm Express and DaVinci Resolve are free video editing programs. Both are great, but some features make those two different. How do both compare? The article covers HitFilm Express vs. DaVinci Resolve.
A quick intro
HitFilm Express is a free version of HitFilm Pro. It has a bit of a touch of VFX and post-processing features, and you can export in the 4K for resolution.
DaVinci Resolve, on the contrary, is the free version of DaVinci Resolve Studio. It is known for professional video editing and color grading and has been used in developing movies, including Ad Astra and Dark Phoenix.
Ease of use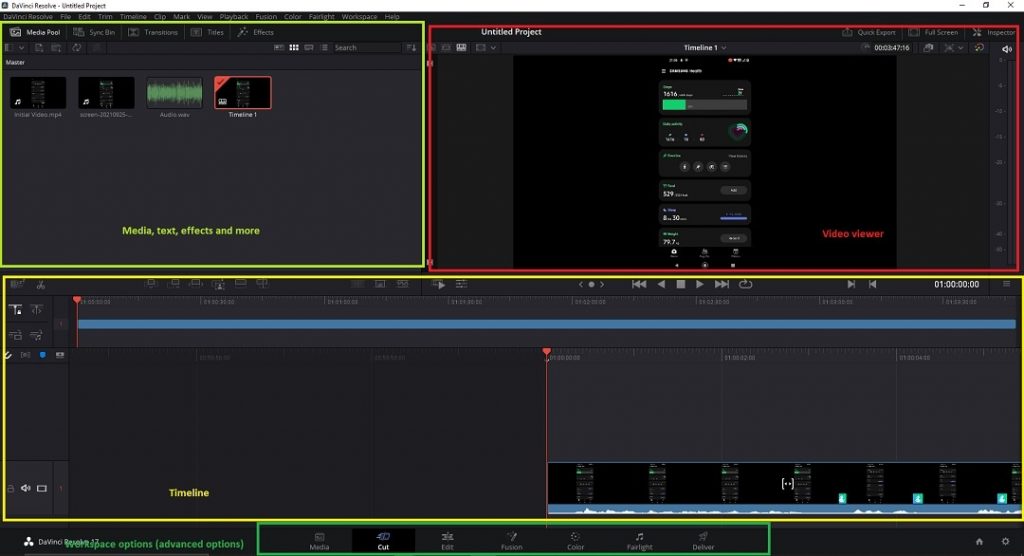 Both are known for their features and style. HitFilm Express is good if you don't know much about video editing because it comes with many tutorials on its home screen. However, most include some paid add-ons.
DaVinci Resolve is also an excellent tool and will fit many new users, but it offers some advanced options that may confuse some people. Regarding the interface, HitFilm Express has four significant modules:
The video viewer is to the right.
Below the video viewer, we have the main timeline to add, cut, and remove video clips.
To the left of the timeline, we have the effects, media, and history panel. This panel can also edit effects that you add to the timeline.
The last major component is the controls component, where you can apply controls to video clips, including changing positions, opacity, rotations, etc.
Resolve also comes with four major sections, each coming with its own tools and interface:
The viewer is to the right side of the tool.
To the left, you find media, effects, text, transitions, and more.
Below both, we have the main timeline.
Following the timeline, you will find some advanced workspaces.
Features
When you create a new project, both ask for the video settings, such as resolution and frame rate. In DaVinci Resolve, adding media files with different resolutions in the project settings asks whether to change the resolution or leave it.
It also creates a timeline sequence object in the project files. Besides that, DaVinci offers advanced color correction tools and 87 effects to enhance the video.
HitFilm Express also asks to change the sequence settings when adding the first video with different settings. The tool also comes with a handful of free effects.
Related: Filmora vs. DaVinci Resolve
Importing and exporting
Both support the standard image, video, and audio file formats. DaVinci Resolve supports the MKV format, while HitFilm Express does not.
Regarding exporting, you get multiple resolutions. You can quickly export the video using the default settings.
At the same time, a whole section is also available for professional editors to adjust output settings, such as codec frame rate and resolution.
Transitions
Transitions are an essential part of the HitFilm Express vs. DaVinci Resolve comparison because transition effects have been used for a long time.
HitFilm Express offers around 15 video transitions, whereas you find around 63 transition effects on DaVinci Resolve.
Text titles
HitFilm Express provides the text tool and some installed templates. You can also import custom text templates. DaVinci Resolve, in comparison, offers around 70 free text titles.
Integrations
Integrations are a part of this Hitfilm Express vs. DaVinci Resolve battle. HitFilm Express comes with add-ons, each offering unique benefits. Those add-ons are for VFX, coloring, video editing, and more, costing from $20 to $50.
DaVinci Resolve also supports plugins to improve its functionalities. These include video collages, audio options, motion arrays, and false color effects.
Some plugins can be used for free for some time. When the time limit reaches, you see a time-up message.
Related: Adobe Premiere Pro vs. HitFilm Express
Pricing
Both can be owned by paying a one-time fee. HitFilm Pro is a high-end tool offering over 950 VFX and presets.
It also has advanced 3D camera tracking, text options, color grading, etc. According to the website, the program is for editors and motion graphics creators.
It costs $349 with 12 months of updates and technical support. You can use it on three computers simultaneously. Other purchasing options are Pro Video Bundle and Pro Suite.
The video bundle offers both Ignite Pro and HitFilm Pro for $583. The pro suite package also includes Imerge Pro. The whole package costs $677 with 12 months of updates.
DaVinci Resolve Studio, along with the free options, supports Neural Engine, more FX filters, and advanced HDR grading and scopes. The Studio costs $295.
Which one is for you?
As mentioned, DaVinci Resolve is an advanced tool. If your work requires simple video editing, HitFilm Express is enough. Its premium version is suitable for those with video effects.
However, if you need something advanced that can also do simple stuff, or if you think that your job will require advanced editing in the future, DaVinci Resolve is the tool you should consider.
Please keep in mind that both tools are complicated to use at first.
HitFilm Express vs. DaVinci Resolve: Links
Summary
The article HitFilm Express vs. DaVinci Resolve covered the essential features of both. I hope you find this article helpful. Please share your thoughts with us in the comments to discuss more.