StreamYard is mainly used for live events, while OBS is for broadcasting games and stuff. What other features make them different? Let's find out in StreamYard vs. OBS comparison.
StreamYard vs. OBS: What are both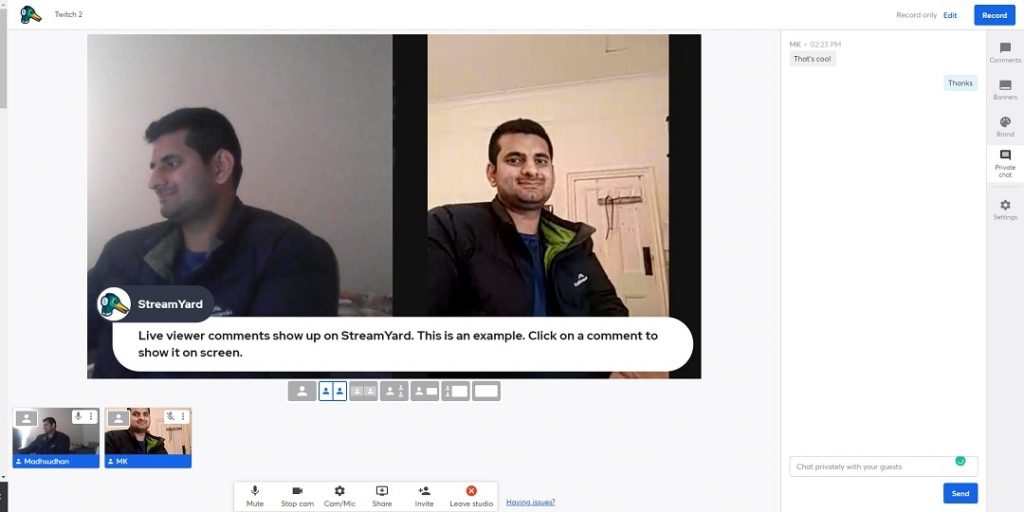 StreamYard is a web-based tool to stream and record your video conferences on platforms like YouTube and Twitch. It requires a free account to begin, but you get premium plans to access more features.
On the other hand, OBS is a computer application to record and stream games and stuff. It's free and open-source.
The difference
Here are the main differences between the two:
StreamYard is easier to use, while OBS is complicated, especially for new users.
The former comes with a studio to show name labels, brand logos (premium), and more, while you need to set those up in the latter.
You can invite people to stream and chat with them in StreamYard, while OBS well suits an individual. If you like to chat in OBS, install a plugin or use a third-party application.
Related: StreamYard Review
Streaming platforms
StreamYard offers to stream on YouTube, Twitch, Facebook, and a couple more. On its free plan, one can only broadcast on one platform at a time.
OBS also offers streaming on a single platform, but it supports over 60 platforms, including all StreamYard supports.
Setting up
StreamYard is easier to set up compared to OBS. You connect your account using the platform's email and allow the access request.
With OBS, for most platforms, you need to establish a connection. Depending on the platform and its requirements, we use different ways to connect.
For example, to connect OBS with Twitch, you can log in with your Twitch account in OBS or paste your stream key copied from the account settings.
StreamYard studio
The main section of StreamYard is its studio, where we live broadcast and record. The main scene is displayed in the center with some options and details of people joined down below.
To the right, we have the chat pane with some video options. Right below the main video, you have a few scenes to display.
You can also:
invite people
turn on/off the webcam and mic
add banners
add and modify the name labels
Chat with the joined people
display timer screens
add video overlays
Related: Restream vs. StreamYard
Recording
StreamYard studio allows recording your screen. You can choose a specific window, tab, or application to record, while both webcam and microphone can be toggled on and off to suit your needs.
Regarding downloading videos, you have limited options. In its free plan, you don't get access to all the recordings. Also, if you download any video, it will come with StreamYard brand banners.
In comparison, the recording is one of the main features of OBS. The app comes with scenes and sources. Scenes are used to separate different recording/streaming types.
For example, you will have a different scene for tutorials, and for gameplay, you will have a different scene.
Under each scene, we add sources. Sources can be active windows, text overlays, images, videos, etc. So, when you click on a scene, all the saved sources under that scene are activated.
Plugins
OBS comes with many plugins to enhance its functionalities. These include Source Dock, Face Tracker, and OBS Colour Monitor. Some plugins allow you to add overlays and banners to promote your brand without investing in any program.
Pricing
As mentioned, OBS is a free tool. StreamYard contrarily comes into three plans: Free, Basic, and Professional.
The free plan adds up to 6 on-screen participants, but you can only stream 20 hours a month. The basic plan offers to add up to 10 participants, and you can multi-stream on up to three platforms. Moreover, the plan removes the hours limit and its brand logos.
In the professional plan, you can stream on eight accounts simultaneously in full HD. The subscription also allows accessing and downloading audio of streams to upload on your podcast account.
The basic plan costs $240 per year or $25 per month, whereas the professional plan costs $468 per year, which is $39 per month, or you can subscribe to the monthly plan for $49 per month.
Also consider reading: Streamlabs vs. OBS
StreamYard vs. OBS: Download
The bottom line
I believe that if you want to stream games or your screen, OBS is the best option, while for those who want to host live events and invite others, StreamYard is the one to choose.
It offers to add brand assets and chat with people right on its platform without doing too much. OBS offers many more functionalities than Streamyard but learning to use this tool.
Anyway, this was the StreamYard vs. OBS article. I tested both to write this and similar articles. Please check out the links below for more related articles. Also, any suggestions or comments are appreciated.