OneNote has been here a very long time, and it's one of the great note-taking tools. Obsidian is still new but has huge potential.
Which is for you? An Obsidian vs. OneNote comparison is essential to find the best program.
What are both
Obsidian is a note-taking and project management tool prescribed as "your second brain." That's because it helps you visualize your project to help you make correct decisions.
The free app is offline, but the Obsidian Sync plugin costs $10 monthly, allowing you to save projects online.
Microsoft OneNote is a note-taking program to save personal and work notes. Its popularity has decreased because of many new note-taking apps.
The power of Obsidian
Obsidian may be a note-taking app, but its real power relies on the visualization of the project. It helps you see how the project will evolve before you even start working.
This gives you opportunities to change the structure beforehand. All this is possible because of its Knowledge Graph display.
It also supports the Markdown language prompts to help you create rich-text documents.
Knowledge graph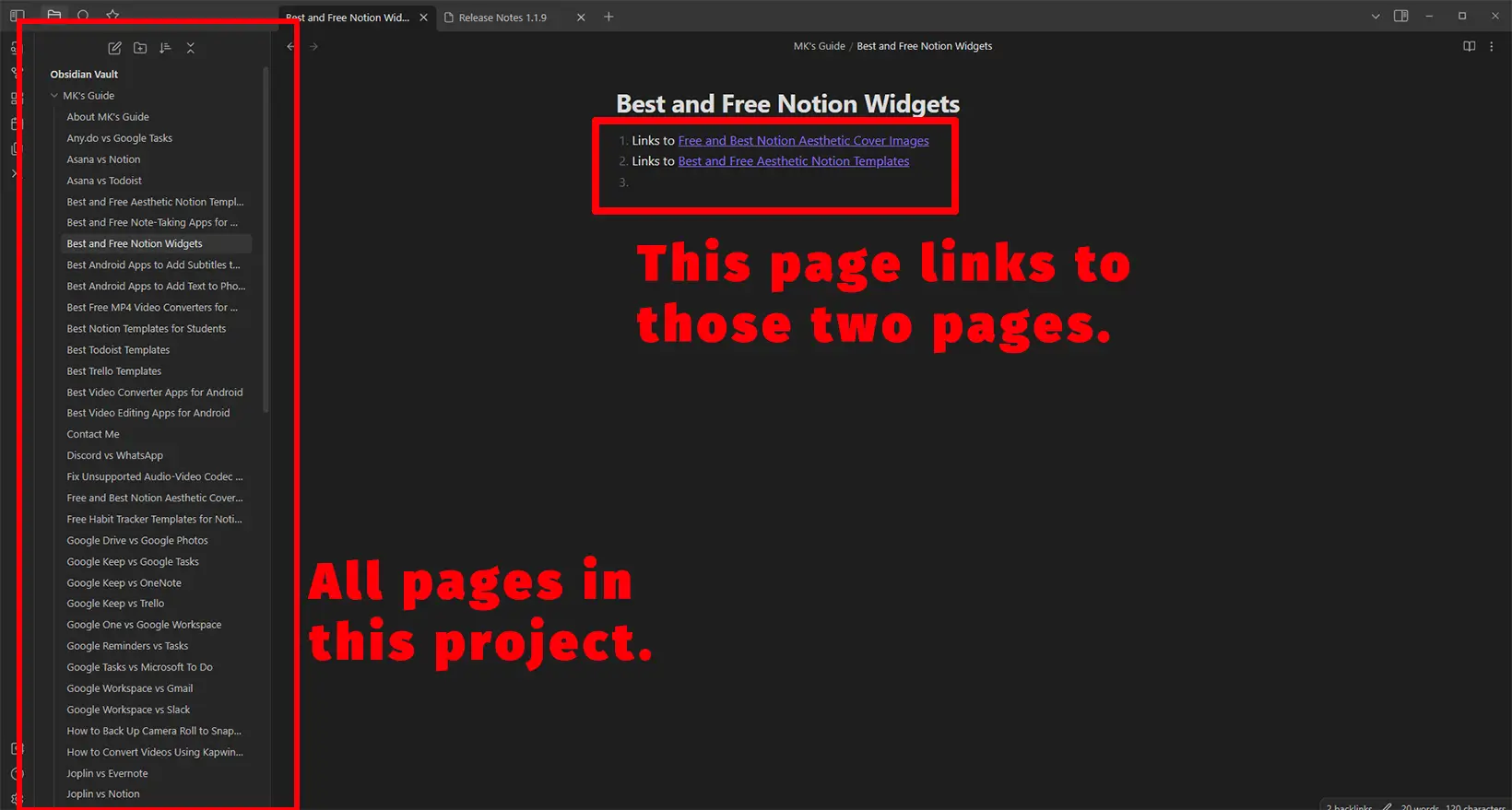 The Knowledge Graph is where we visualize each page and its connections. Suppose you want to develop a game.
You will want to see where the player goes from one scene to another. Each scene in Obsidian can be a page connecting to the relevant pages.
Let's take an easier approach. The main menu of the game is always linked with settings, quit game, and about us pages, so each of those can be nodes (pages) in Obsidian.
To make the graph possible, we link pages with others in the text editor. See the above images. The left shows how pages are connected, and the right shows the graph when pages are linked to other pages.
Related: Joplin vs. Obsidian
The power of OneNote
OneNote has many rich text editing tools. It offers options that help you create complex notes. The text editor has headings, fonts, font size, bold, italicize, underline, and other options.
You can insert tables, equations, meeting details, shapes, images, videos, audio, and files to provide as much information as possible.
Moreover, OneNote is blessed with translation, collaboration, Bing image search, and online video embed features.
All this is offered in the basic OneNote desktop app. The Office OneNote app (an explanation about the two apps is given in the supported platforms section) has more options, including templates, video recording, more note exporting formats, etc.
Drawing
The additional feature of OneNote is drawing. You can use OneNote as a whiteboard or highlight stuff on the page as you go.
Unlike other apps, OneNote allows you to draw over text, images, tables, and videos. The drawing feature is available on all platforms.
Supported platforms
Obsidian is available on desktop computers and mobile phones. As the app is offline, you must download it to use it.
OneNote is available on desktop computers, the web, and mobile phones. The problem with OneNote is that it's not fully streamlined. There are two OneNote Windows applications.
One has more features than the other. Also, the app on iPhone has more options than on Android. This makes collaborations difficult as the app features are platform dependent.
Pricing
As mentioned, Obsidian supports saving work online to work on any platform. It costs $10 per month. The app also has Catalyst and Commercial licenses, costing a one-time fee.
Catalyst costs $25 and gives you early access to new features, community badges, and more. The Commercial license costs $50 in total and lets you use the program for commercial purposes.
OneNote, in comparison, is completely free. You, however, need a free Microsoft account to use it and collaborate.
Related: OneNote vs. Notion
Obsidian vs. OneNote: Which is for you
The main difference between Obsidian and OneNote is that Obsidian is for projects where you need visualizations. OneNote is just a note-taking app to store your thoughts in rich text format.
Also, if you want something to collaborate on projects, OneNote may suit you better. Collaboration is possible in Obsidian, but you must pay for it or transfer files to your colleagues.
Website links
Conclusion
This is the end of the Obsidian vs.OneNote comparison. I hope the words helped you choose the better option.
Please help this article and other readers by adding your thoughts and feedback below, and don't forget to subscribe.