Restream and Streamlabs are great, but both are used for different purposes.
How do Restream and Streamlabs compare, and which one is for you? The article takes a ride and covers Restream vs. Streamlabs.
What are both
Restream is a cloud-based streaming platform for video conferences, podcasts, Q&A, and general events.
It can work independently in your browser to stream your computer and webcam to social media. You can also connect with tools like Streamlabs, OBS, and Zoom to live stream.
Streamlabs OBS is a desktop application designed to stream your games or have Q&As with your fans. The program is heavy, so you need a good PC to play and stream games.
Supported streaming platforms
Restream supports a wide range of platforms. Those include YouTube, Facebook, Twitch, Instagram, and several others.
Streamlabs does not support that many, but it supports the common ones:
YouTube
Twitch
Facebook
TikTok
Trovo
Features
Restream
No software required: The service is web-based, so you don't need to install it to use it.
Guests and partners: Restream supports adding guests and partners for discussions. Streamlabs supports this feature through third-party apps.
Supports Zoom: Restream supports Zoom, so you can use Zoom to video conference and live stream via Restream.
Banners: The studio offers banners such as donation messages, follow us, and more.
Background music: Choose from the background music in the studio.
Schedule streams: You can schedule live streams.
StreamYard is another program similar to Restreams. Check out Restream versus StreamYard.
Streamlabs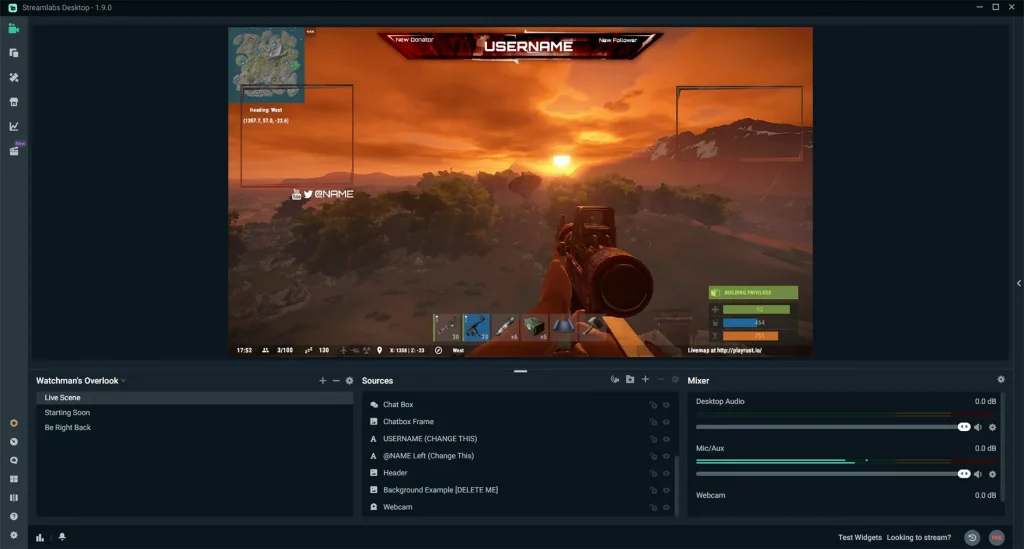 Tips: Streamlabs offers tools to request tips from followers.
Overlays: It provides many great overlays to customize the stream.
Widgets: Widgets are pre-made templates to add to the stream. These include the followers' stats, donations, comments, and more.
Chatbot: You get a free chatbot to do automated tasks and avoid spam.
Charity: For all those who want to start a fundraiser, Streamlabs has excellent tools.
Supported operating systems
Restream lets you stream from computers and phones. Also, as it can be connected with other apps regardless of the platform, we get several options.
It can be connected with Streamlabs mobile app to stream from your mobile.
Streamlabs is offered on Windows, macOS, Android, and iOS. The macOS app is in beta and is not fully developed.
Streamlabs also has a mobile controller app to control your desktop app from your phone. Check out my guide to set up and use the mobile app.
Restream vs. Streamlabs: Analytics
Both platforms record and keep track of analytics to help you grow. The Analytics Dashboard gives you insights into the following:
Views
View duration
Stream time
Other platform-specific stats
Most of this info can also be seen on the streaming platform page, but this data combines all platforms letting you see the big picture.
Integrations
One of the great things about Restream is that it can work with Streamlabs, making it possible to use both programs together.
The program supports broadcasting tools, mobile streaming programs, and consoles, making it the ultimate program if you are looking for scalability. Here is the list of broadcasting programs:
OBS
Streamlabs
Zoom
Microsoft Teams
vMix
XSplit
12 other platforms
The mobile streaming tools list is as follows:
GoPro
Mobile Streamlabs
Larix Broadcaster
Three other tools
Lastly, it supports PS4, Xbox One, and Elgato Game Capture HD streaming. Streamlabs supports several integrations, including Discord, Skype, LIVE, and Tipeeestream.
A fine comparison: Streamlabs versus OBS
Pricing
Restream comes in multiple plans. It's a subscription-based service, and on its free plan, you can:
Stream on two platforms simultaneously
Add 6 participants to the stream
Connect integrations
Restream watermark
The Standard plan costs $19 per month if paid monthly or $190 per year and offers:
Five-platform streaming
10 participants and guests
Download the video or audio of recordings (6 hours per stream)
The upper-hand subscription costs $49 monthly or $490 annually and brings:
Eight-platform stream support
Full HD recording
Stream recorded videos
Download 10/hour per stream video or audio
There are two other plans: Premium and Business. Those subscriptions cost $83 monthly or $249 yearly and are suitable for streamers with thousands of followers already making thousands.
Streamlabs brings the Streamlabs Ultra subscription for $19 per month or $149 per year. The toolkit is packed with features, including:
60+ apps
Over 1000 premium overlays
Custom tip pages
Up to 11 on-camera guests
Streamlabs Web and Mobile Ultra
Streamlabs Console
Video Editor and Podcast Editor Pro
Summary
Restream is mainly for video conferences, podcasts, and events, so you should use it if you are into one of those things.
Streamlabs is designed for gaming, and if you are a gamer who wants to stream on Twitch or YouTube, you should go with Streamlabs OBS.
Restream vs. Streamlabs: Links
Madhsudhan Khemchandani has a bachelor's degree in Software Engineering (Honours). He has been writing articles on apps and software for over five years. He has also made over 200 videos on his YouTube channel. Read more about him on the about page.